EuropeanaPhotography
EuropeanaPhotography (EUROPEAN Ancient PHOTOgraphic vintaGe repositoRies of digitAized Pictures of Historical qualitY) is a consortium and project putting together some of the most important European photographic archives, public libraries and photographic museums covering specifically the length of time from the beginning of photography (1839 with the first example of images from Fox Talbot and Daguerre) to the beginning of the Second World War (1939).
EuropeanaPhotography is EU project funded under CIP – Competitiveness and Innovation Framework Programme 2007–2013 (Starting date: 1st February 2012 – Ending date: 31 January 2015), coordinated by ALINARI 24 ORE SPA.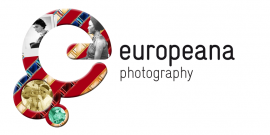 Project website
www.europeana-photography.eu
Project partner in Lithuania
Lithuanian Art Museum. Website www.ldm.lt.
Project coordinator in Lithuania
Viktorija Jonkutė.
The Lithuanian Art Museum, a member of ICOM, has been a national museum since 1997. Having a public institution established in 1907 marked the beginning of its history. The museum has valuable collections of fine art, applied arts and folk art as well as a rich library, an archive and a photo archive. Since 2009 it has been responsible for organizing and coordinating digitisation activities at Lithuanian museums. It is an approved administrator and a recognized national training centre for implementing and managing digitisation projects at Lithuanian museums. For this purpose, a special branch called the Lithuanian Museums' Centre for Information, Digitisation and LIMIS was established in 2009.
The Lithuanian Art Museum will coordinate the digitisation of 20 000 historic photos preserved at various Lithuanian museums. Taken between 1838 and 1939 they depict scenes from village life, Lithuanian ethnography as well as historical images of cities and architectural monuments. Having digitised the photos and negatives at the museums (WP3), the Lithuanian Museums' Centre for Information, Digitisation and LIMIS will take over doing indexing and transforming metadata (WP4 and WP5). We will also collaborate in the development of EuropeanaPhotography Vocabulary and develop its Lithuanian version. A workshop for the specialists of photographic archives, museums and cultural institutions will be held in Vilnius under the project framework.
_________________
Related Information:
International conference "Digitisation and photographic memory" (11th September 2013) >
"EuropeanaPhotography" Content Seminar (12–13th Apri 2012) >
Workshop for Lithuanian museums involved in EuropeanaPhotograpy project (14th March 2012) >
Europeana Photography KICK-OFF MEETING (Florence 9th–10th February 2012) >
About Project EuropeanaPhotography www.digitalmeetsculture.net >
Contacts: Danutė Mukienė, Viktorija Jonkutė (e-mail: info[at]limis.lt, viktorija[at]limis.lt)