AthenaPlus – Access to Cultural Heritage Networks for Europeana
AthenaPlus is a CIP best practice network started in March 2013 and ending in August 2015. The consortium is composed by 40 partners from 21 Member States countries. AthenaPlus will build on the successful experience developed by the previous ATHENA project – where LIDO and the ATHENA Ingestion Server and Mapping Tool (MINT), widely used across the Europeana's ecosystem of projects including the finished Linked Heritage project were developed, in order to further advance and complete the effective infrastructure and tools developed to support museums and other cultural institutions in their work to making available digital content through Europeana.
Project news, activities and results: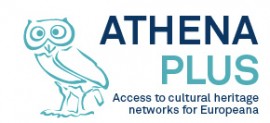 More about the project:
The best practice network created by AthenaPlus is in a strategic position to address this challenge, due to:
its high institutional value (hundreds of European institutions are involved or associated with the project);
the large amount of content made available to Europeana;
the powerful services for institutions to be created by the project;
the new services for specific communities of users and generic citizens.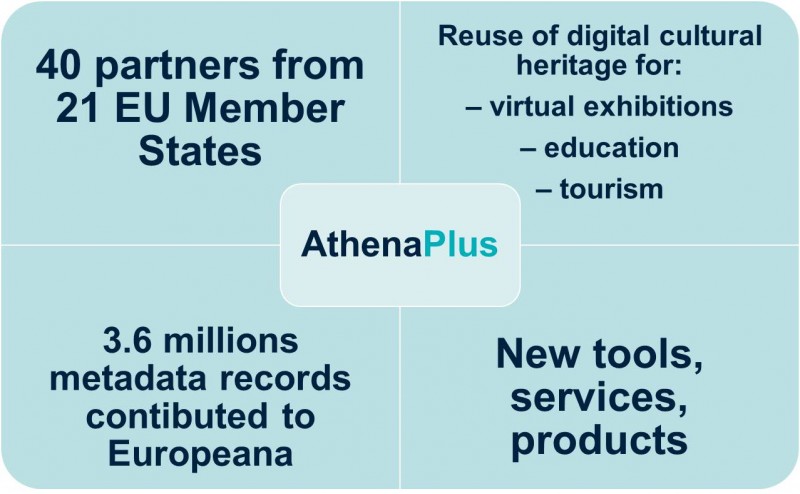 The principal objectives of the AthenaPlus project are to:
Contribute more than 3.6 millions metadata records to Europeana, from both the public and private sectors, focusing mainly on museums content, with key cultural stakeholders (ministries and responsible government agencies, libraries, archives, leading research centres, SMEs);
Improve search, retrieval and re-use of Europeana's content, bettering multilingual terminology management, SKOS export and publication tool/API for Content Providers;
Experiment with enriched metadata their re-use adapted for users with different needs (tourists, schools, scholars) by means of tools that support the development of virtual exhibitions, tourist and didactic applications, to be integrated into Europeana repositories and the repositories of national aggregators or individual Content Providers.
Project's Website: www.athenaplus.eu
Project's Facebook account: https://www.facebook.com/athenaplusproject
Project's Twitter account: https://twitter.com/AthenaPlusEU
Project's blog: http://athenaplus.wordpress.com/
Project's partners in Lithuania: Lithuanian Art Museum and Šiauliai "Aušros" Museum
The complete list of project's partners and contributors >>>

Contacts: Danutė Mukienė, Donatas Snarskis (e-mails: danute@limis.lt, donatas.s@limis.lt)